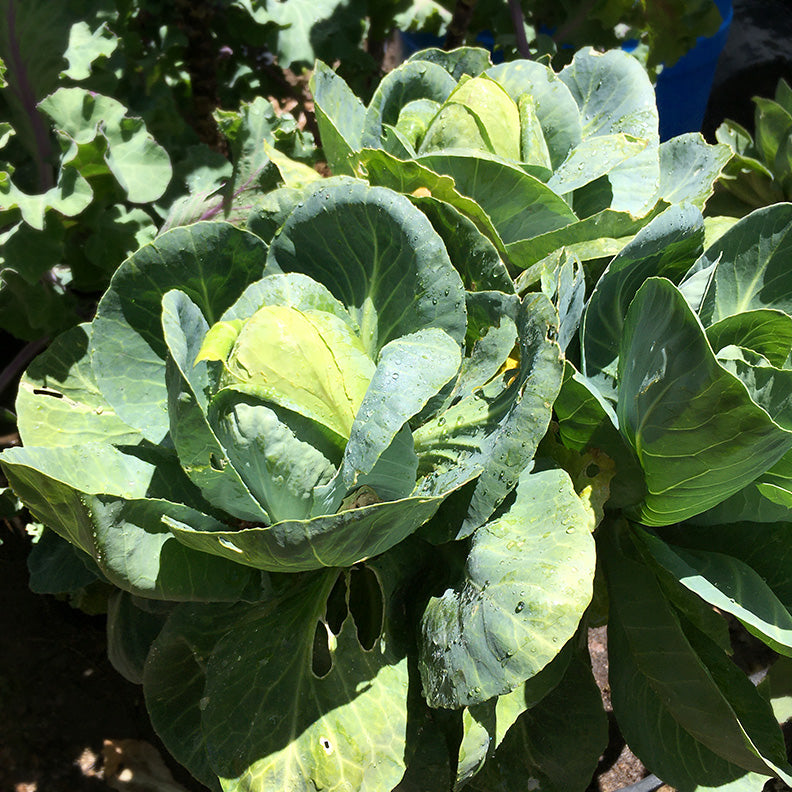 Tree Cabbage (Rare)
$32.00
Product Description: 
This Tree Cabbage is not like any kind you have ever seen.  It is a perennial plant that grows upright.  The plant is able to produce multiple stems thus we refer to it as a "tree".  This is a unique breed that birthed on my friend's property.  This plant will start growing leaves in a rosette form.  As it matures the "cabbage" head will start to produce -- developing into a cabbage heart that's the size of an endive.   Harvesting the "cabbage" will encourage side growth that later will become cabbages.
Tree Cabbage can be grown in the ground, or a 10-15 gallon container. Keeping them in full sun, or part shade with moist soil will keep them growing year round.  They can handle the cold as well as Kale.  If where you live gets a long period of freeze, it's best to protect the tree from frost.  
It's common for Tree Cabbage to experience transplant or climate shock when they first arrive at their new home.  Leaves may drop, but as long as the core stem is plump and firm, new leaves will emerge once the it begins to establish.  When you receive your Tree Cabbage, transplant it to a bigger pot (if you are growing it in a container) then harden off the "tree" before putting it out in full sun.  This usually would help with avoiding fast leaf drop.

♥What You Will Receive♥
1 Fully rooted Tree Cabbage Plant.  Will be shipped with soil in pot.  "Tree" is about 4-5 inches tall.  Care sheet will be included.

♥ Eventful June Garden Tour ♥

♥Our Growing Practice♥
We believe that growing high quality foods require high quality soil; therefore, the ingredients we use for growing are of higher standards compared to the conventional systems. All our plants are grown in full organic soil, GMO FREE, and are not treated with any chemicals or pesticide.