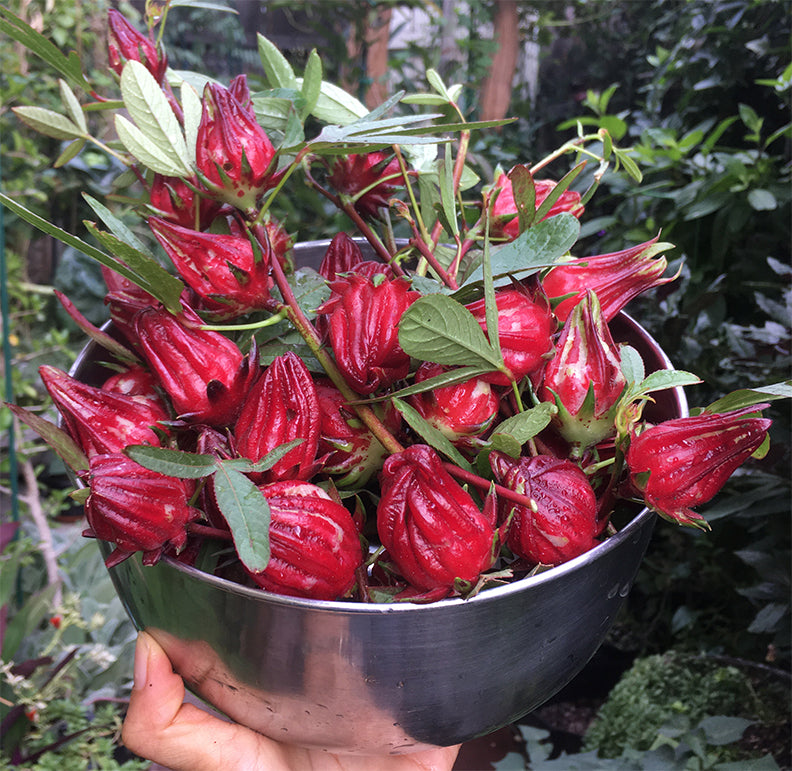 Roselle Hibiscus Seeds
$5.00
Roselle (Hibiscus sabdariffa) is a tropical shrub with edible leaves and calyces contains vitamin C, B2, A, Magnesium, Phosphorus, carotene, anthocyanin, iron and more.  Roselle is also known Hibiscus, Florida Cranberry, Jamaican Sorrel.  It is a fast growing shrub that is heat loving, and sensitive to the cold.  It grows 5-7 FT tall and wide if given the space so be sure to provide at least 10-15 gallon soil.  In colder regions the Roselle is grown as an annual plant.  It thrives well in full sun, even in areas with 100F+ summers.  As long as the Roselle is provided with well drained soil, regular watering to maintain soil moist, and lots of sunshine — this plant will thrive beautifully.  Once the day starts to get shorter, buds will begin to develop.
This plant was originated from Africa and the Caribbean. Now commonly grown in tropical and subtropical regions around the world such as India and Southeast Asia.  
In Holistic practice, Roselle has been used to aid urinary tract infections, colds, support healthy blood pressure, soothe sores and ulcers.  Stems are used as substitution to jute.  Leaves and calyces can be eaten raw or cooked.  The entire plant has a pleasant sour/lemony taste. Leaves are delicious stir fried, curry, or raw in salads and salsas.  Calyces contains natural pectin and can be used for making jelly.  One of the common used the Caribbeans enjoy consuming is to make a sweet and sour drink, or dry calyces for tea. Parts of Mexico rehydrate the dried calyces to put in tacos.  
-------
♥What You Will Receive♥
12 Roselle Seeds from my garden
Has long growing season.  Sow seeds before the last frost indoor.  Keep indoor until last frost has past.
-------

♥ Roselle Harvest ♥

♥Our Growing Practice♥
We believe that growing high quality foods require high quality soil; therefore, the ingredients we use for growing are of higher standards compared to the conventional systems. All our plants are grown in full organic soil, GMO FREE, and are not treated with any chemicals or pesticide. 
***Disclaimer***
Description is for educational purposes only.
This information has not been evaluated by the Food and Drug Administration.
This information is not intended to diagnose, treat, cure, or prevent any disease.

-------
Shipping Info
To my friends in HAWAII -- Due to agricultural restrictions in the State of Hawaii, I can only ship seeds not plants. If you have any questions please contact me.  Mahalo!
If you are purchasing more than 1 item please contact me for combined shipping rates. Thanks!