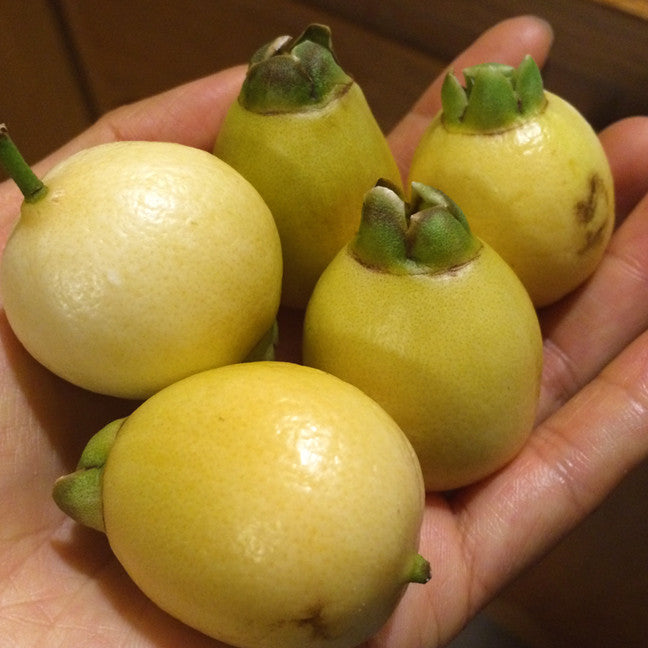 Rose Apple Seedling (Syzygium jambos)
$33.00
This fruit sounds exactly like its name.  Crunchy, sweet with a strong rose fragrant!  It is tropical native to South East Asia, and it is related to Jambu Wax Apple.  These delightful fruits are said to be rich in vitamin C.
♥Growing♥
It enjoys full sun, heat and humidity, but can be cold hardy up to about 35F+ for short periods. Young trees should be protected during cold nights.  It is semi deciduous.  Regular watering, or rainfall is enough to sustain the tree. Water more frequently when fruits begin to form.

Fruits in the warmer months.  It can grow to 40 ft tall, but can be kept small. Though it may vary, but the mother tree started baring fruits at it's third or fourth year.  More fruits will form as the tree matures and grows bigger.  If you enjoy floral fragrant foods, this may be worth the wait.

♥What You Will Receive♥
The plant you will be receiving is a seedling that's approx. 7-9 inches tall.  It will be shipped in a pot with soil. 
♥How We Grow♥
We believe that growing high quality foods require high quality soil; therefore, the ingredients we use for growing are of higher standards compared to the conventional systems. All our plants are grown in full organic soil, GMO FREE, and are not treated with any chemicals or pesticide.
♥ Harvesting Rose Apple♥