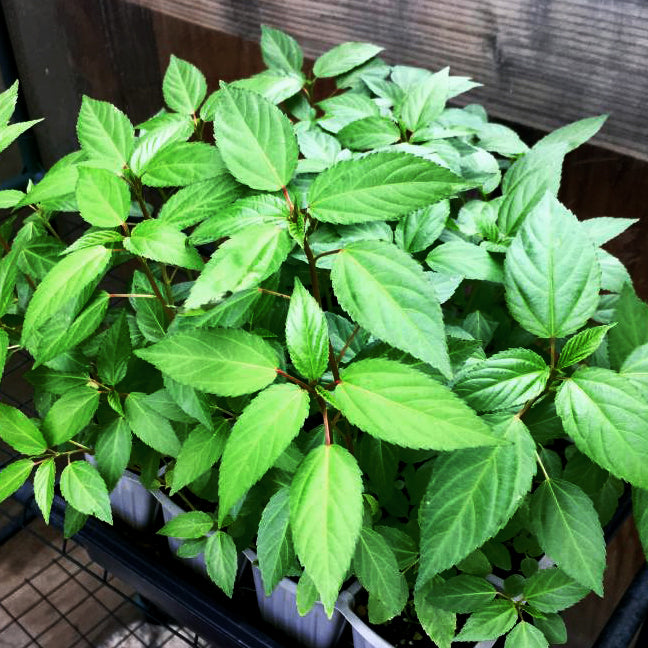 Red Stem Egyptian Spinach Seeds *Rare*
$7.00
Egyptian Spinach is said to be more nutritious than kale!  Especially in this rare heirloom variety, the red stems are packed with anthocyanin which may have antioxidant, anti-aging and anti-cancer benefits.  This leafy green contains 4x more carotene than spinach, 10x more calcium than broccoli, 5x more vitamins B1, B2 than spinach.  It even contains more vitamin C, E, potassium, iron and fiber than most other vegetables. 
♥How To Care For The Plant♥
This plant has been widely grown in tropical Africa as food and tea.  Egyptian Spinach is a heat loving bush.  They start off moderately slow, but once the heat comes they grow quite fast.  Best to grow in full sun and regular watering to keep soil moist (not soggy).  This plant grows as annual in cooler climate.  Here in zone 10 it's leaves begin to drop by around 60F.  Life cycle will be fully completed by winter.  Collect seeds to grow again the follow year!
♥How To Use♥
This plant has a mild / neutral flavor. Young leaves are picked for salads, mature leaves can be cooked in soups, stews, even dried for tea.  Dried leaves can be powdered to use as nutritious soup thickener due the gelatinous texture.  Leaves are great to add in green smoothies due to the soluble fiber in these leafy greens.  They make the smoothie taste smooth almost like a juice!
Young seed pods are tender, and can be eaten raw or cooked.  Texture and taste is similar to okra.  
♥How To Start Seeds♥
Sow seeds in potting soil after the last day of frost.  Sprinkle a light layer of soil over the seeds. Keep soil moist.  Seeds may not germinate until the days warm up in mid spring.  You can also plant seeds in warm indoor space to speed germination.
♥What You Will Receive♥
Approx 35 seeds
Growing Instructions will be included.
♥Various Names Of This Plant♥
Jute Mallow, West African Sorrel, Molokhia, Mulukhiyah, Corchorus olitorius
♥Our Growing Practice♥
We believe that growing high quality foods require high quality soil; therefore, the ingredients we use for growing are of higher standards compared to the conventional systems. All our plants are grown in full organic soil, GMO FREE, and are not treated with any chemicals or pesticide. 
***Disclaimer*** 
Description is for educational purposes only.
This information has not been evaluated by the Food and Drug Administration.
This information is not intended to diagnose, treat, cure, or prevent any disease.

-------

Shipping Info
To my friends in HAWAII -- Due to strict policy in the State of Hawaii, shipping seeds to this state would be at your own risk. If you have any questions please contact me. Mahalo!