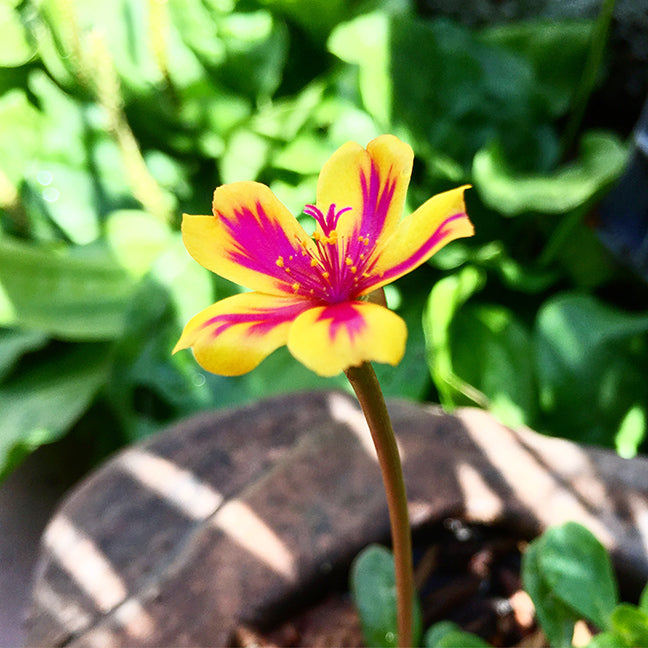 Purslane Cuttings
$14.00
*COMING SOON!  These will be available in mid Spring.  :)
Plants featured here are called Purslane (Portulaca oleracea).  They are a variety of Purslane, which you may recognize that they look similar to the Wild Purslane that's spread all over the world.  Wild Purslane is a nutritious vegetable yet some people considered it to be a weed.  Purslane contains the high levels of omega 3 and vitamin A compared to other leafy greens.  It also contains vitamin C, and some of vitamin B complex.
Wild Purslane has smaller leaves and tiny yellow flowers that's not nearly as striking as the kind featured here.  Leaves and flowers in these featured plants are edible.  You will be receiving a mixture of unrooted cuttings so you can have a variety of Purslane flowers blooming in the garden! 
♥How to Use♥
The leaves are succulent and has a mild lemony taste.  It can be added in a salad, smoothie or soup.  I love decorated my dishes with these beautiful flowers and succulent leaves!

Purslane leaves can be rubbed on minor cuts and burns for relief.  
♥How to Grow♥
This plant grows fast, and loves the heat. It can be grown from full sun to part shade, but full sun will encourage more blooms. They grow well with moderate watering, and are also drought tolerant.  They grow low to the ground, and drape down. They make such wonderful ground cover to shade the soil.
To root Purslane is as easy as placing the stem in soil, and water moderately.  In just a few weeks you will notice the roots begin to set.  Plants usually root faster in part shade.
♥Size of Plant♥
Plant Cuttings (vary): about 4 inch, comes in 5 cuttings.
The cuttings WILL NOT BE ROOTED.  You will need to root them on your own.  It is a hardy succulent that usually takes about a few weeks to start setting roots.  Fresh cuttings will be harvested prior to shipping.  Please plant them in soil upon receiving.
A care sheet will be included.
♥Our Growing Practice♥
We believe that growing high quality foods require high quality soil; therefore, the ingredients we use for growing are of higher standards compared to the conventional systems. All our plants are grown in full organic soil, GMO FREE, and are not treated with any chemicals or pesticide. 
***Disclaimer*** 
Description is for educational purposes only.
This information has not been evaluated by the Food and Drug Administration.
This information is not intended to diagnose, treat, cure, or prevent any disease.

-------

Shipping Info
To my friends in HAWAII -- Since shipping live plants to the State of Hawaii are required to be shipped bare root, or in soil-less medium, I cannot ship this plant since I cannot guarantee the life of it upon arrival.  Ashitaba has sensitive roots.  If you have any questions, please contact me.  Mahalo!
If you are purchasing more than 1 item please contact me for combined shipping rates. Thanks!