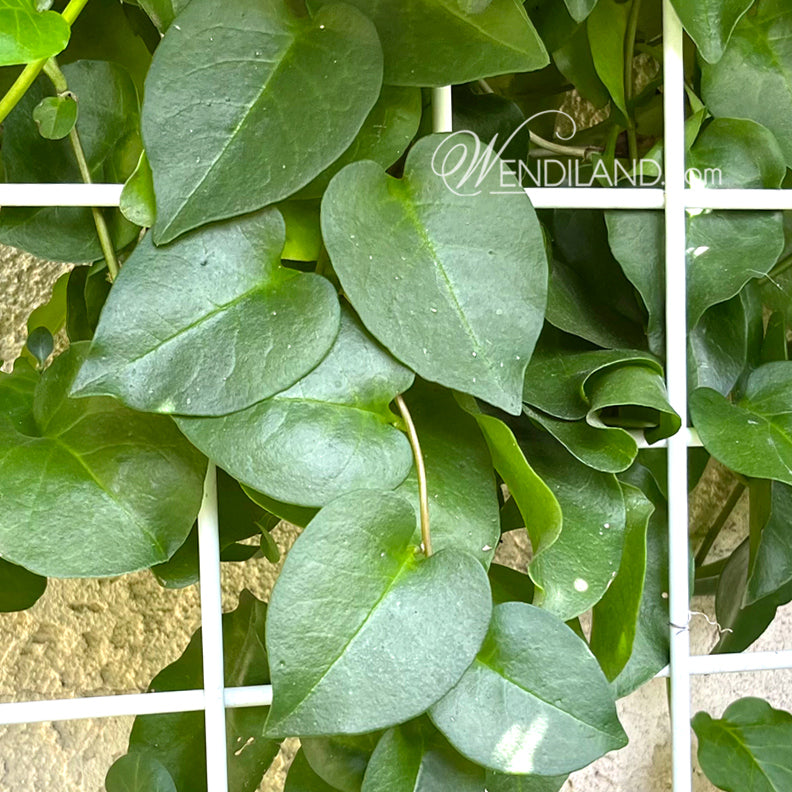 Madeira Heartleaf Vine
$15.00
Plant Description:
This South American vine called Madeira Vine (Anredera cordifolia, 落葵薯) can be grown as a vegetable, or an ornamental.  It is a succulent belonging to the Basellaceae family with edible leaves and tubers.  It is a vagarious climber that grows about 90+ feet if it does not get cut back.  This vine grows well in containers, keep cutting back to maintain desired size.  It's fast growing during warm season.  Can be grown with a tomato cage, trellis, or fence. 
The flowers come in mid to late summer with creamy white blooms that are scented.  Grows well in full sun to part shade with moderate water.  Can grow in well-drained and clay soil.  It's a hardy plant that handles infrequent watering.  Mature stems will produce aerial tubers that can be used to propagate.
Plant will not tolerate frost so save the ground tubers or aerial tubers to regrow in the next season.
Which Parts Are Edible?
Leaves can be eaten cooked or raw.  Although it is not recommended to eat more than a few leaves raw in one sitting.  Raw leaves have slimy, succulent texture.  When cooked the taste is similar to Spinach.  Great in soups or stir fry.
Ground Roots (produced in the ground) develop tubers that are edible cooked.  Some say taste is similar to a potato.  Grow them in the ground, or containers then harvest at the end of season for the tubers.
Aerial tubers (grown on the vine) is used in plant remedies.  Please do your own research to confirm.
♥ Grow Madeira Vine For Infinite Food Supply ♥


What You Will Receive:
5 fresh pieces of aerial tubers will be shipped to you for planting.  Lightly bury them in moist soil for the shoots to sprout.

A care sheet will be included.

~~~

♥Our Growing Practice♥
We believe that growing high quality foods require high quality soil; therefore, the ingredients we use for growing are of higher standards compared to the conventional systems. All our plants are grown in full organic soil, GMO FREE, and are not treated with any chemicals or pesticide. 
***Disclaimer*** 
Description is for educational purposes only.
This information has not been evaluated by the Food and Drug Administration.
This information is not intended to diagnose, treat, cure, or prevent any disease.

-------

Shipping Info
To my friends in HAWAII -- Since shipping live plants to the State of Hawaii are required to be shipped bare root, or in soil-less medium, I cannot ship this plant since I cannot guarantee the life of it upon arrival.  Ashitaba has sensitive roots.  If you have any questions, please contact me.  Mahalo!
If you are purchasing more than 1 item please contact me for combined shipping rates. Thanks!