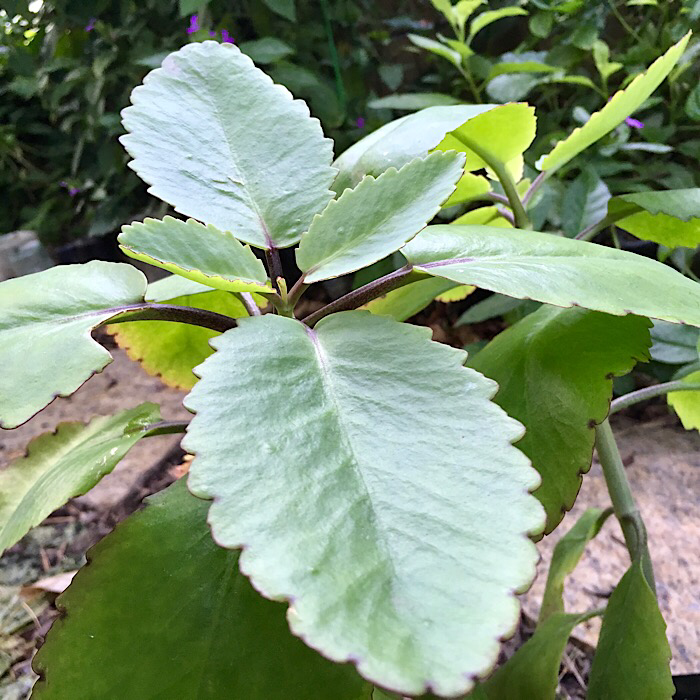 Leaf of Life
$16.50
Leaf of Life makes a functional yet decorative (house)plant for medicinal herb gardeners/collectors. Locals in the Caribbean harvest fresh leaves to make tea. Lightly boil leaves in water then simmer to drink for relieving respiratory discomforts, and mild food poisoning from parasites. Honey can be added in tea for soothing benefits and improving taste if desired.

Leaf of Life is anti-bacterial, anti-fungal, anti-microbial, anti-viral. Raw leaves are blended as smoothie with coconut water, and Aloe Vera for combatting the flu.

Fresh leaves are crushed to directly apply on open wound to promote faster healing. Crushed leaves can be placed over the forehead to relieve headaches.

Before using or ingesting this plant, doing your own research is highly recommended.

Leaf of Life AKA Miracle Leaf, Love Bush, Bryophyllum calycinum, Bryophyllum pinnatum, Kalamchoe pinnata. Though it is native to Madagascar, this plant is commonly grown in homes of the Caribbean and Jamaica. It will need to be protected from frost, and grown in part sun outdoor. Intense sun in the summer can cause leaves to burn if planted in full sun. Soil should be kept moist or slightly moist. Can grow up to a few feet tall, but usually stay around 1-2 FT. Grows well in containers, or in the ground.

In mild climates, this plant grows year round and propagates by itself. When a leaf drops, multiple new lives sprout. They may seem invasive, but roots are shallow, easy to remove.

To manually propagate, place a leaf on top of moist soil, or over it lightly with soil. Within a couple of weeks you will notice sprouts peaking through. When the babies have a few leaves on them, they are ready to be transplanted.
♥Size of Plant♥
Plant Height (vary): about 3 inch
Plant you will receive will be similar to the one in the last photo
Will be shipped in a coconut coir pot and soil so it can get to you as safe as possible.  You can place the entire pot directly in soil to prevent transplant shock.  The roots will grow through the coconut coir and into new soil.
A care sheet will be included.
♥Our Growing Practice♥
We believe that growing high quality foods require high quality soil; therefore, the ingredients we use for growing are of higher standards compared to the conventional systems. All our plants are grown in full organic soil, GMO FREE, and are not treated with any chemicals or pesticide. 
***Disclaimer*** 
Description is for educational purposes only.
This information has not been evaluated by the Food and Drug Administration.
This information is not intended to diagnose, treat, cure, or prevent any disease.

-------

Shipping Info
To my friends in HAWAII -- Since shipping live plants to the State of Hawaii are required to be shipped bare root, or in soil-less medium, I cannot ship this plant since I cannot guarantee the life of it upon arrival.  Ashitaba has sensitive roots.  If you have any questions, please contact me.  Mahalo!
If you are purchasing more than 1 item please contact me for combined shipping rates. Thanks!