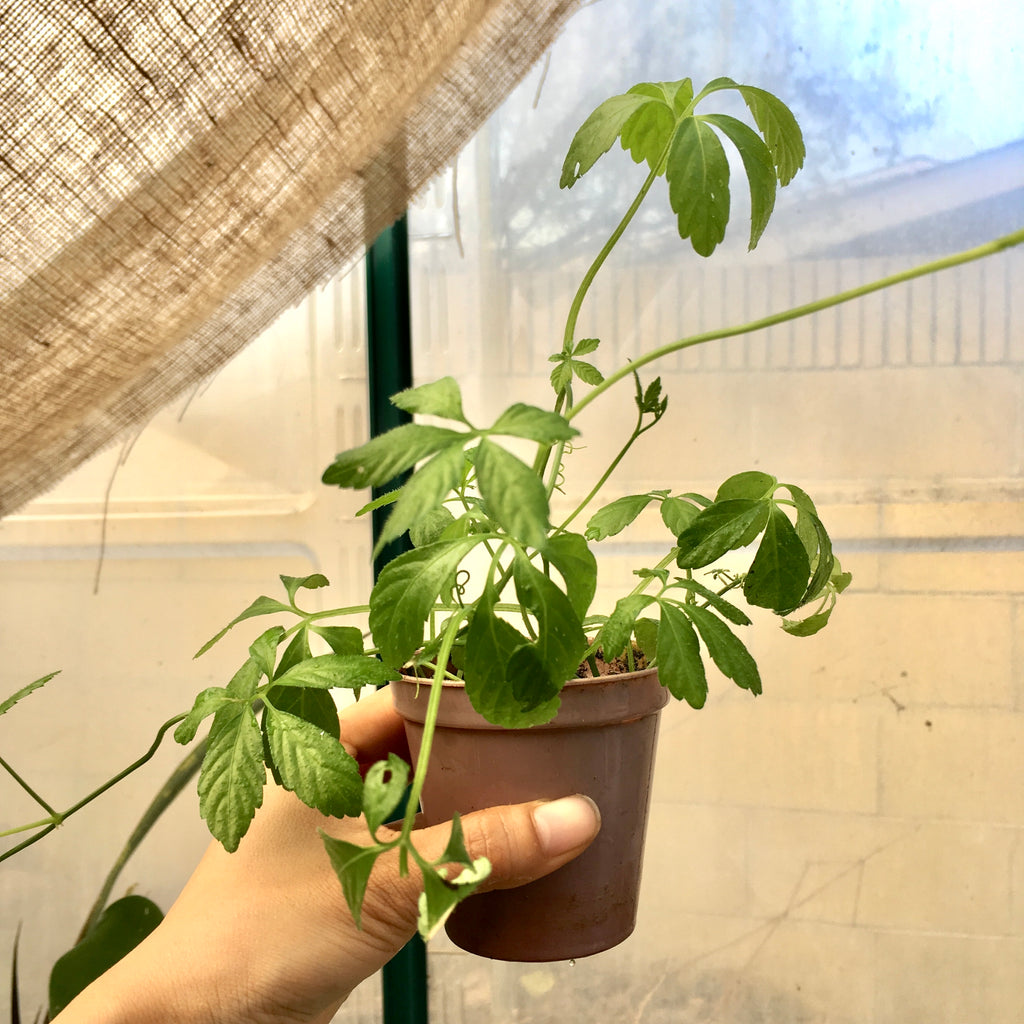 Jiaogulan Immortality Herb (Blood Pressure Support)
$12.00
Jiaogulan ( Gynostemma pentaphyllum ) is AKA Immortality, or Long Life Herb.  It grows as a vine with delicate leaves that contain more phyochemicals than Ginseng!  There are 28 active saponin compounds in Ginseng root, and 82 active saponins found in Jiaogulan!  What makes this Immortality herb even more worthy of growing is that it grows much faster and easier than Ginseng!  No wonder some refer to Jiaogulan as the "Poor Man's Ginseng." 
Jiaogulan can be eaten in salads, added to smoothies and juices, or drank as tea.  This herb contains potent antioxidant, and can benefit the heart, cholesterol, and blood pressure health.  This herb can give you a boost of energy when needed.  
Leaves can be eaten raw, used for juicing, adding in smoothies, salads, and making a delicious cup of tea.  Just pour boiled water over a few crushed fresh leaves, and steep for a few minutes.  It also makes a refreshing summer tea, but refrigerating.  This tea has a slight sweet after taste.
♥How To Grow♥
Jiaogulan grows best in part shade, or morning sun, moist soil with organic compost.  It also grows well in full shade / bright indirect light; thus, it makes a wonderful house plant in a bright room, or by the window.  
Since this is a vine, it is best to grow on a trellis or tomato cage.  Grows well in container gardens, or hanging baskets.  
This herb is found growing in southern China and Thailand so it will need to be protected by bringing it indoor during winter for places that freezes over.  In Southern California (zone 10), we have mild winter so it can stay outdoor, but it will go dormant until spring.  Once weather starts to warm, they will sprout again.
Propagates by cuttings.
♥Size of Plant♥
Plant Height (vary): about 1 FT
Plant you will receive will be similar to the one in the last photo
Will be shipped as is — in soil and container.  Please have larger pot ready for transplanting soon after its arrival.
A care sheet will be included.
♥Our Growing Practice♥
We believe that growing high quality foods require high quality soil; therefore, the ingredients we use for growing are of higher standards compared to the conventional systems. All our plants are grown in full organic soil, GMO FREE, and are not treated with any chemicals or pesticide. 
***Disclaimer*** 
Description is for educational purposes only.
This information has not been evaluated by the Food and Drug Administration.
This information is not intended to diagnose, treat, cure, or prevent any disease.

-------

Shipping Info
To my friends in HAWAII -- Since shipping live plants to the State of Hawaii are required to be shipped bare root, or in soil-less medium, I cannot ship this plant since I cannot guarantee the life of it upon arrival.  Ashitaba has sensitive roots.  If you have any questions, please contact me.  Mahalo!
If you are purchasing more than 1 item please contact me for combined shipping rates. Thanks!