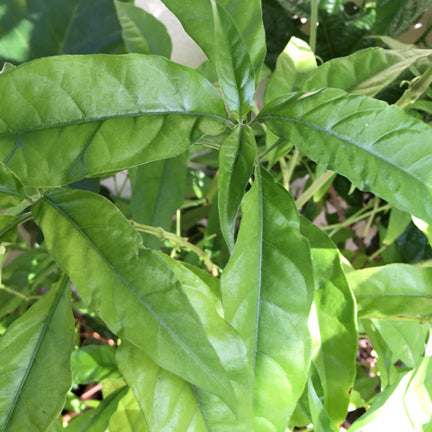 Hoan Ngoc Vietnamese Herb
$23.00
Product Description:
Hoan Ngoc (Pseuderanthemum palatiferum) is a medicinal plant that originated from Vietnam.  It belongs in the Acanthaceae family.  The thin, delicate leaves are edible raw or cooked.  Taste is mild, and blends really smoothly.  The leaves create a gelatinous consistency in a smoothie so you no longer taste the leaf texture like you would when blending Kale.
This plant grows well in ground or container.  Grows to 5 FT tall.  Can top off to encourage side growth for an airy shrub-like appearance.
♥How to Use♥
Leaves are eaten raw, in smoothies, or cooked in soups or stir fry.  Leaves can be dried to for tea.  If you have never tried this green, it is always best to try in small quantity.

♥How to Grow♥
Hoan Ngoc grows best in bright filtered light (indirect sunlight).  It grows deep green leaves in full shade, and more yellow tone in part shade.  It thrives in warm weather, and moist soil.  Need to be protected from frost.  Grows well as a house plant.
♥Size of Plant♥
Plant Height (vary): about 4-5 inch.
The plant you will receive will look similar to the one in the last photo.
A care sheet will be included.
♥Our Growing Practice♥
We believe that growing high quality foods require high quality soil; therefore, the ingredients we use for growing are of higher standards compared to the conventional systems. All our plants are grown in full organic soil, GMO FREE, and are not treated with any chemicals or pesticide. 
***Disclaimer*** 
Description is for educational purposes only.
This information has not been evaluated by the Food and Drug Administration.
This information is not intended to diagnose, treat, cure, or prevent any disease.

-------

Shipping Info
To my friends in HAWAII -- Since shipping live plants to the State of Hawaii are required to be shipped bare root, or in soil-less medium, I cannot ship this plant since I cannot guarantee the life of it upon arrival.  If you have any questions, please contact me.  Mahalo!
If you are purchasing multiple items please contact me for combined shipping rates. Thanks!