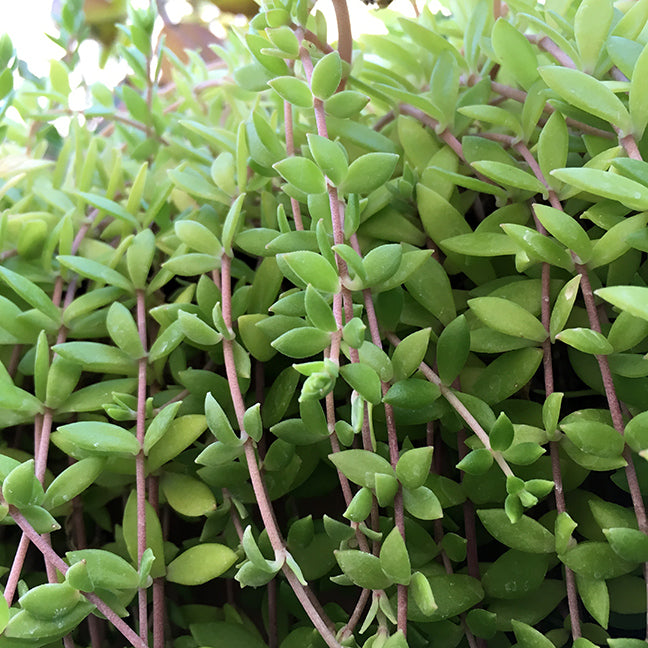 Gold Moss Cuttings
$13.50
Product Description:
Gold Moss AKA Stringy Stonecrop (Sedum sarmentosum) is an edible perennial succulent.  The thick yet delicate texture of the leaves give a nice crunch.   
Gold Moss creates a beautiful lush cascading effect when they hang over a pot.  It also creates a wonderful ground cover to keep soil moist.  It blooms bright yellow flowers.  When the plant is exposed to full sun, it produces a yellow golden tone on the leaves.  It is native to East and Southeast parts of Asia such as China, Korea and Thailand.  
This plant is traditionally used for supporting healthy blood pressure, its anti-viral effects, fighting against intestinal parasites, liver support, and for easing chronic inflammation.  When used topically, Gold Moss is said to work as a local anesthetic, and aid increasing blood flow to the skin.
♥How to Use♥
Leaves and stems are edible, but it is best to harvest the younger stems as they are more tender.  If you harvest stems that are more mature, just extract the leaves to eat.  This plant is called dolnamul (돌나물) in Korea, and it is eaten fresh as a salad. It can also be eaten cooked.  I love adding this to my sandwich for a nice crunch!  The leaves have a bit of sour taste.
♥How to Grow♥
Gold Moss grows fast, and loves the heat. It can be grown from full sun to part shade, but growing in part shade will keep the stems a bit more tender, and leaves more green. Intense full sun can wash out the green in leaves.  They are drought tolerant, but leaves are more juicy and tender when grown with moderate watering.  Need to be protected from frost.
Gold Moss easily roots at the nodes or runners. To grow them from cuttings just lay the stems flat (horizontally) in soil then lightly bury them.  In just a couple of weeks you will start to see this plant rising from the soil.  Remember to water to keep soil moist to encourage roots to grow faster.  Although this plant is not picky in type of soil to grow, but fluffy loose soil with good drainage will have the plant growing a lot faster! 
♥Size of Plant♥
Plant Cuttings (vary): about 4 inch, comes in 5 cuttings.
The cuttings WILL NOT BE ROOTED.  You will need to root them on your own.  It is a hardy succulent that usually takes about a few weeks to start setting roots.  Fresh cuttings will be harvested prior to shipping.  Please plant them in soil upon receiving.
A care sheet will be included.
♥Our Growing Practice♥
We believe that growing high quality foods require high quality soil; therefore, the ingredients we use for growing are of higher standards compared to the conventional systems. All our plants are grown in full organic soil, GMO FREE, and are not treated with any chemicals or pesticide. 
***Disclaimer*** 
Description is for educational purposes only.
This information has not been evaluated by the Food and Drug Administration.
This information is not intended to diagnose, treat, cure, or prevent any disease.

-------

Shipping Info
To my friends in HAWAII -- Since shipping live plants to the State of Hawaii are required to be shipped bare root, or in soil-less medium, I cannot ship this plant since I cannot guarantee the life of it upon arrival.  Ashitaba has sensitive roots.  If you have any questions, please contact me.  Mahalo!
If you are purchasing more than 1 item please contact me for combined shipping rates. Thanks!