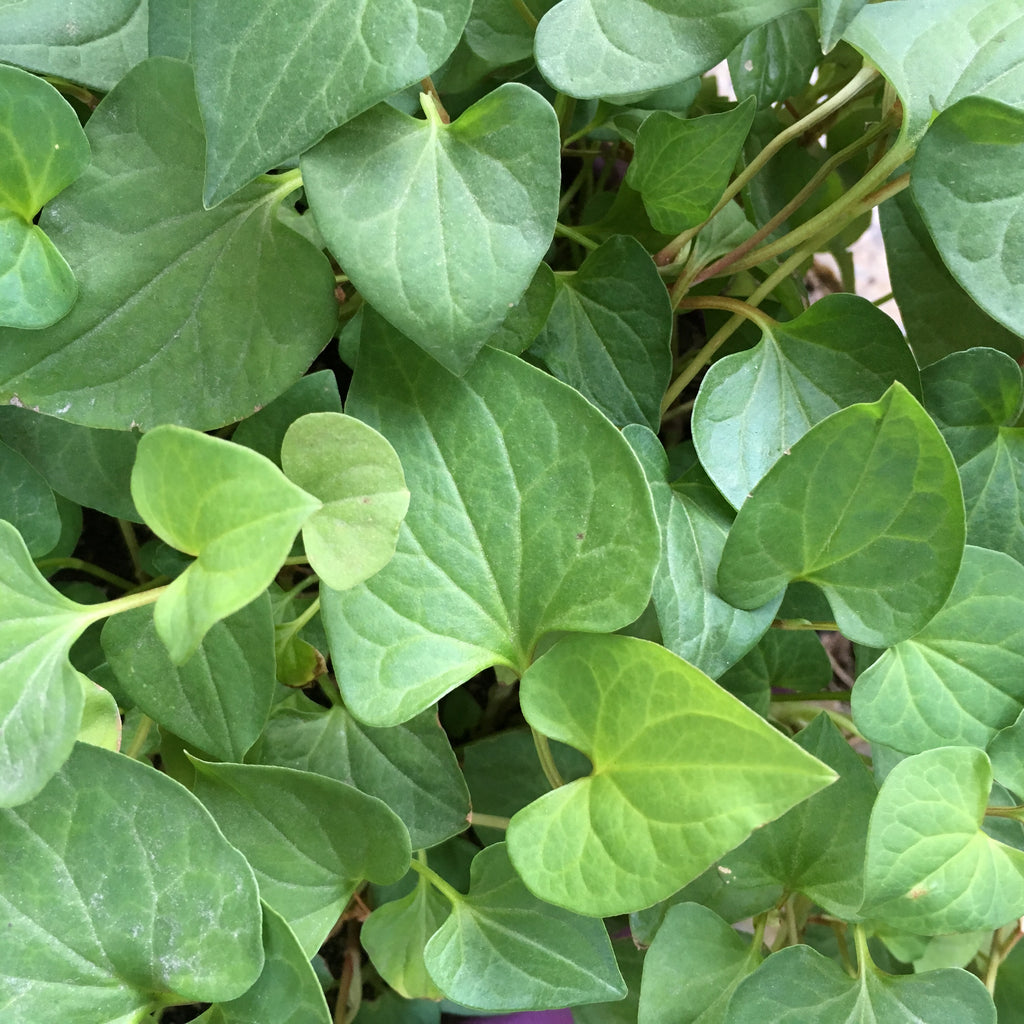 Fish Mint Plant *Coming Soon!*
$18.50
♥*♡∞:。.。Will be coming soon!。.。:∞♡*♥
These plants are almost ready to greet you.  Be sure to add your email so you can be notified when they are back in stock! :)
Product Description:
Fish Mint (Houttuynia cordata) goes by various names such as Diep Ca, Phakkaawtong, Toningkok, Jamyrdoh, Dokudami, Chameleon, Lizard Tail, Heartleaf, Bishop's weed, and Fishwort.
This herb is commonly used throughout Southeast Asia.  You can find it used in culinary as well as herbal remedies. In China, the roots are used in stir fry. In Vietnam, leaves and tender stems are eaten raw along with other raw herbs such as Basil, Perilla, and Mint with cooked meals.  Fish Mint has a fishy aroma with a tang taste; thus, it pairs well with seafood, and grilled food.  Try replacing Basil with Fish Mint in your Pesto, it makes a delicious sauce for sandwiches, pasta, or dip.  Olive oil tunes down the pungent smell of the herb and makes a tasty sauce.
Though Fish Mint is not in the Mint family, but in the warmer months, this herb sure grows quickly like Mint would.  It can spread and become a decorative yet edible ground cover.  Since it grows so quickly, it's considered to be invasive so growing in a container will help control it from spreading.  This herb also works well in a hanging basket.
Fish Mint can grow in part sun / full sun.  It will thrive in various types of soil type, but soil should stay moist for the plant to thrive.  Here in Zone 10, the herb is being watered once daily during the hotter months.  It will survive outdoor in mild winters.  For places that freezes over, the plant should be dug up or grown in containers to bring inside. 
To propagate, simply snip the stem and stick it back in moist soil.  Leaves may wilt, but in a couple weeks new leaves should grow.  Best to propagate in a bright indoor space, or in the shade outdoor during the warmer period.

♥Why Grow Fish Mint?♥
Fish Mint contains polyphenols, which is high in antioxidant for the benefits of anti-aging, and preventions of many illnesses.  It can stimulate white blood cell development to support the immune system. This herb also contains antibacterial properties, but also promote intestinal health.

The name of this plant in Japanese is Dokudami, which means poison blocking plant.  Leaves are harvested and dried for tea.  In Traditional Chinese Medicine, this herb is used for the respiratory system.  Please do your own research before using this herb.

-------
♥What You Will Receive♥
Plant Height (vary): about 3-5 in
Your plant is fully rooted.  It will be shipped in the pot with a high quality organic soil.
♥Our Growing Practice♥
We believe that growing high quality foods require high quality soil; therefore, the ingredients we use for growing are of higher standards compared to the conventional systems. All our plants are grown in full organic soil, GMO FREE, and are not treated with any chemicals or pesticide.  

-------

***Disclaimer
Description is for educational purposes only.
This information has not been evaluated by the Food and Drug Administration.
This information is not intended to diagnose, treat, cure, or prevent any disease.

-------
Shipping Info
To my friends in HAWAII -- Due to the strict policy of Agriculture Department in the State of Hawaii, I cannot ship this plant since I cannot guarantee the arrival of your package due to customs inspections. 

If you wish to try shipping the live plant, it is completely at your own risk.  Please read on to see how it will be shipped.

Shipping live plants to Hawaii must be in bare root, or in soil-less medium.  Method I ship will be using soil-less medium to keep the roots moist.  Upon arrival the leaves may be wilted due to stress, but it should show signs of recovery within the week.  Plants will need to be transplanted in organic soil as soon as possible, and kept in full shade until they a strong root system establishes.  Once your package is shipped, it 2-3 business days to arrive, but please expect for delay due to customs.  If you have any questions please contact me.  Mahalo!