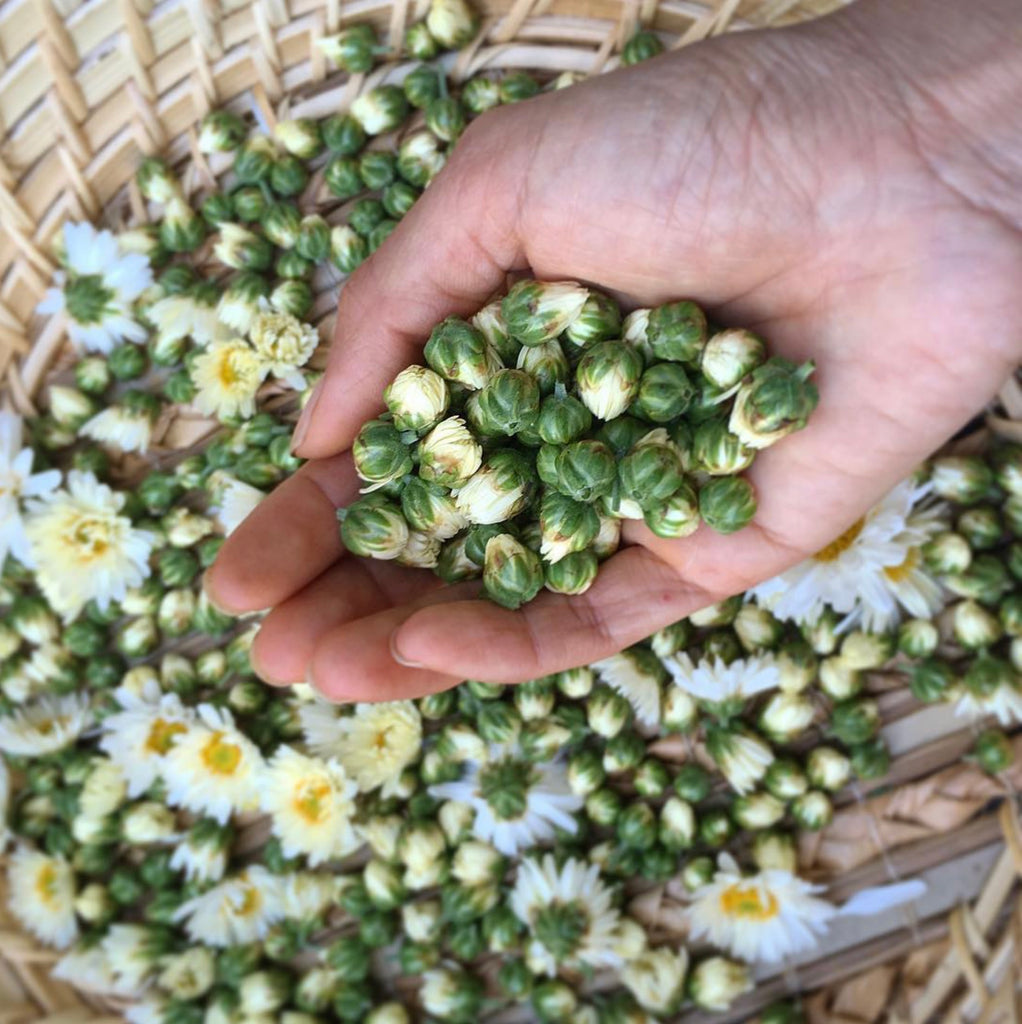 Chinese Chrysanthemum
$26.00
Product Description:
This listing is for 1 healthy, fully rooted Chinese Chrysanthemum plant that's grown in fully organic soil.  I do not use any chemicals or pesticide for my plants.  The plant you will receive is much like the one in the last photo -- is about 3-4 inches tall.  It will be shipped in its pot to ensure the plant will get there as healthy and safely as possible.
Chinese Chrysanthemum (Chrysanthemum morifolium AKA Ju Hua ) is a perennial plant that's grown for its flowers to make tea.  It grows to approximately 2-3 FT all around.  It is a hardy plant for container gardens and planting directly in the ground.  This plant grows throughout warm season then flowers in autumn.  Flowers may come on 1st or 2nd year of growth.  It can withstand mild winter outdoor.
♥How to Use♥
The flowers are harvest to dry for tea.  It is also edible raw.  To make tea — flowers can be fresh or dried to steep in hot water.   The fragrant is stronger when flowers are dried.
♥How to Grow♥
Chinese Chrysanthemum grows best in part sun to full sun.  It grows best in well drained soil, average water needs.  Protect from frost.
♥ Learn About Chinese Chrysanthemum ♥

♥Size of Plant♥
Plant Height (vary): about 3-4 inch
The plant you will receive looks similar to the one in the last photo.
Will be shipped in a pot with high quality organic soil so it can get to you as safe as possible.
A care sheet will be included.
♥Our Growing Practice♥
We believe that growing high quality foods require high quality soil; therefore, the ingredients we use for growing are of higher standards compared to the conventional systems. All our plants are grown in full organic soil, GMO FREE, and are not treated with any chemicals or pesticide. 
***Disclaimer*** 
Description is for educational purposes only.
This information has not been evaluated by the Food and Drug Administration.
This information is not intended to diagnose, treat, cure, or prevent any disease.

-------

Shipping Info
To my friends in HAWAII -- Since shipping live plants to the State of Hawaii are required to be shipped bare root, or in soil-less medium, I cannot ship this plant since I cannot guarantee the life of it upon arrival.  Ashitaba has sensitive roots.  If you have any questions, please contact me.  Mahalo!
If you are purchasing more than 1 item please contact me for combined shipping rates. Thanks!