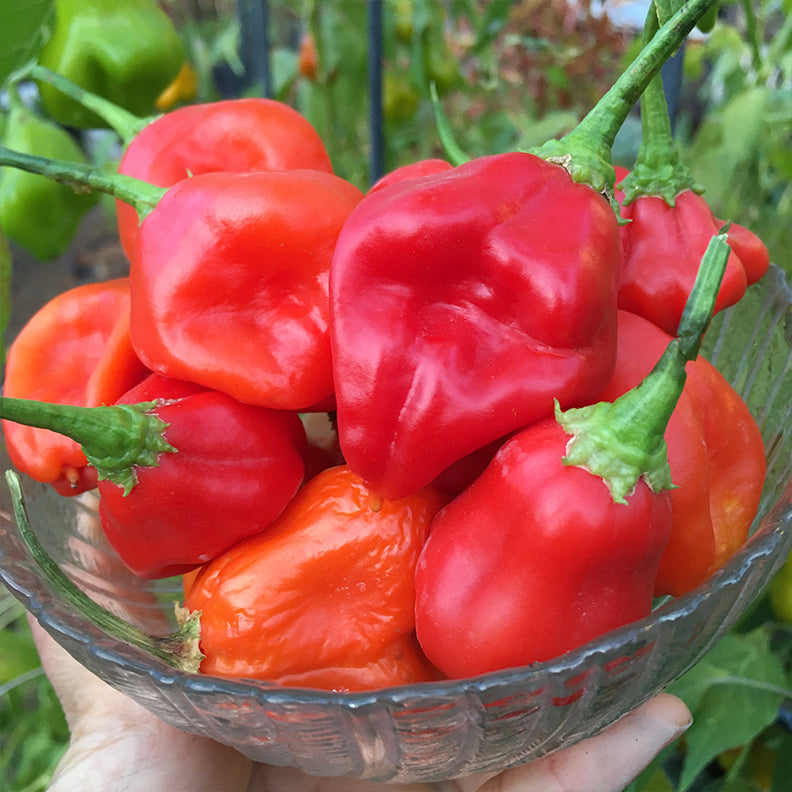 ChilliFlor Pepper Seeds
$7.00
ChilliFlor is a rare pepper variety, but so worth growing due to its delicious flavor, appearance and yield.  It is fast growing in the summer, and can reach 4-5 FT tall.  It grows much like a shrub.  A couple of plants can yield hundreds of fruits when grown in full sun.  Beautiful peppers of green, yellow, orange and finally red dangling on the branches — so heavy they may need support.  The peppers are sweetest when picked red.  They have sweet, fruity flavor.  Each pepper range from mild to medium spicy.  The spicy part of the pepper is usually no the tip, and near the seeds.
Based on my research, it seems that this variety also may go by the name Nepalese Bell, which is rare variety in North America.  These peppers thrive best in 90+F bringing a plant full of fruits.  By late fall another set of fruits emerge.  In zone 9 and 10, these peppers are continuing to thrive in a full sun location with days ranging in 55F-38F, with couple of 32F nights in winter.  It's surprising how they tolerate the cold much better than other pepper plants.  
Best to grow in full sun, well drained soil, regular watering.  I love adding worm castings and organic fertilizer during it's growing stage, and which flowers start to develop.  
Did you know that peppers contain more vitamin C than oranges?  These peppers are delicious fresh off the plant — eat them raw to benefit the vitamin C in these hot and sweet fruits.  They also have a nice crunch!  Great in salads, pickling, fermenting, salsas, stir fry, soups, even stuffing to roast!
-------
♥What You Will Receive♥
10 Pepper seeds
Get pepper started from seed indoor to get them growing!  Plants can be moved outdoor after last frost, when weather warms.
-------
♥Our Growing Practice♥
We believe that growing high quality foods require high quality soil; therefore, the ingredients we use for growing are of higher standards compared to the conventional systems. All our plants are grown in full organic soil, GMO FREE, and are not treated with any chemicals or pesticide. 
***Disclaimer***
Description is for educational purposes only.
This information has not been evaluated by the Food and Drug Administration.
This information is not intended to diagnose, treat, cure, or prevent any disease.

-------
Shipping Info
To my friends in HAWAII -- Due to agricultural restrictions in the State of Hawaii, I can only ship seeds not plants. If you have any questions please contact me.  Mahalo!
If you are purchasing more than 1 item please contact me for combined shipping rates. Thanks!