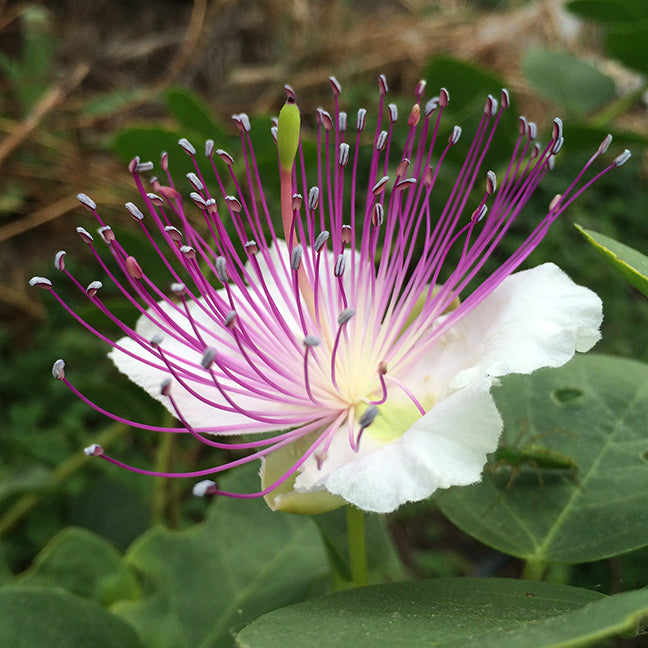 Caper Plant
$55.00
Caper Bush (Capparis Spinosa) is a perennial native to the Mediterranean.  The bush blooms during spring and summer.  The bush drops its leaves in the winter, and new leaf growth will take place once the weather begins to warm in spring.  Did you know the pickled capers sold in jars are the buds of the Caper bush?  If you are patient, and choose to enjoy the flowers then the fruits (berry) may set after the bloom.  Fruits can be harvested for pickling as well.    
This plant will grow to be a beautiful bush in any full sun area.  It is beautiful in xeriscape garden as well since this bush does not require frequent watering.  
♥How to Use♥
Young buds and the fruits of the Caper Bush can be harvest for pickling.  Pickled capers are delicious in any Mediterranean dishes, pastas, pizzas, even in salads!

♥How to Grow♥
Caper plant / Bush can be grown outdoor year round in mild climate.  The plant will need to be brought inside to protect from frost.  Best to grow outdoor in full sun with moderate watering, and well drained soil.  
♥Size of Plant♥
Plant (vary): around 3 inches tall, grown from seed.
Please note that the plant shown in the last 3 photos are representations of what you will be receiving.  It will not be the exact one, but will be similar in size.  Red leaves are the new growth when the plant returns after dormancy.
These Capers are grown from seed, and are 3 years old.  They will need to be transplanted upon receiving so they can flourish.
A care sheet will be included.
♥Our Growing Practice♥
We believe that growing high quality foods require high quality soil; therefore, the ingredients we use for growing are of higher standards compared to the conventional systems. All our plants are grown in full organic soil, GMO FREE, and are not treated with any chemicals or pesticide. 
***Disclaimer*** 
Description is for educational purposes only.
This information has not been evaluated by the Food and Drug Administration.
This information is not intended to diagnose, treat, cure, or prevent any disease.

-------

Shipping Info
To my friends in HAWAII -- Since shipping live plants to the State of Hawaii are required to be shipped bare root, or in soil-less medium, I cannot ship this plant since I cannot guarantee the life of it upon arrival.  Ashitaba has sensitive roots.  If you have any questions, please contact me.  Mahalo!
If you are purchasing more than 1 item please contact me for combined shipping rates. Thanks!