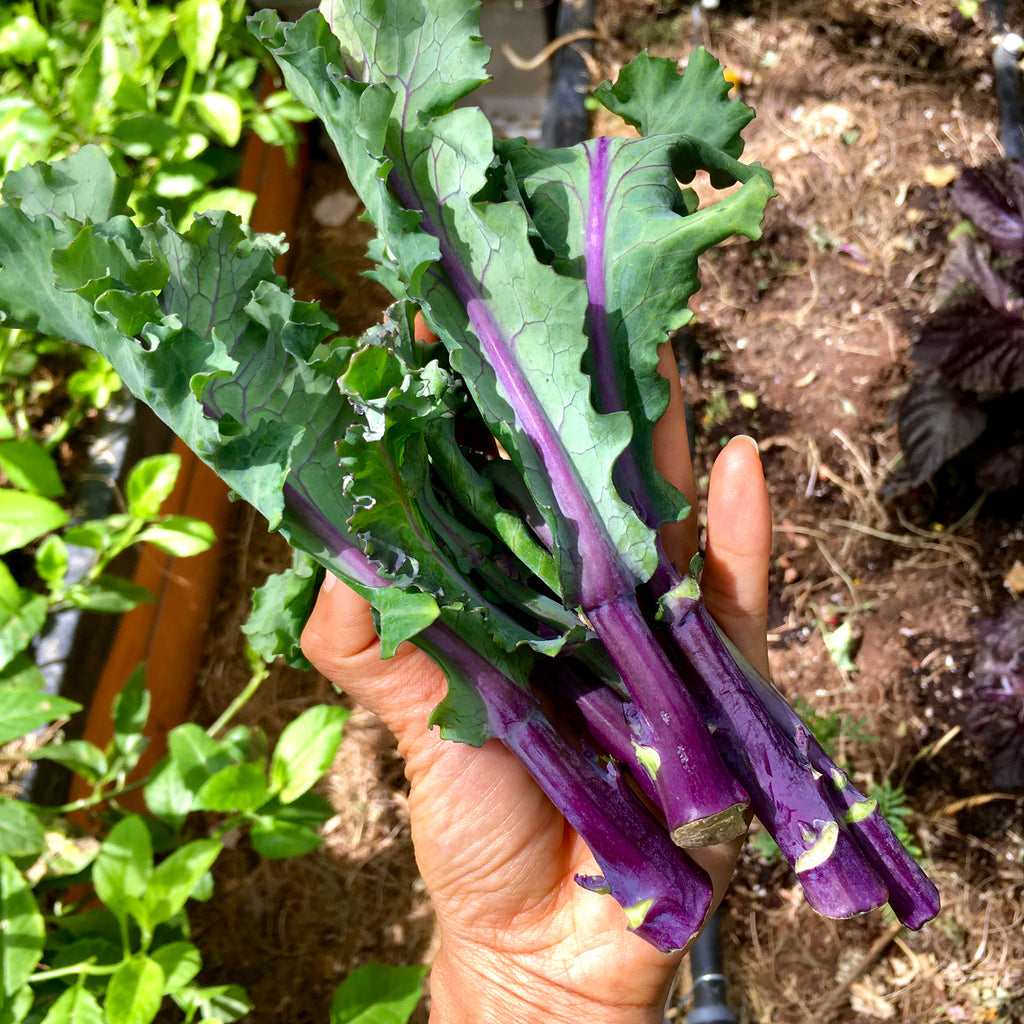 Ruffled Purple Tree Collard (Rare)
$28.00
Product Description: 
This Tree Collard is not any kind you have ever seen.  It is a perennial plant that grows tall thus we refer to it as a "tree".  This is a unique breed that birthed on my friend's property.  The purple stems on this tree is more vibrant than other Purple Tree Collards I know.  As we know research shows that natural food containing purple color has anthocyanin which has antioxidant effect, helping us fight off and prevent diseases. I have tested picking the top stems that were about to flower, and kept the bunch in the refrigerator, and most of the cuttings remain beautiful almost as if they were freshly cut.  The picture here is showing the leaves that's over a month old.  I am convinced that the purple pigment on these cuttings is what's producing the "anti-aging" effect.
Tree Collard can be grown in the ground, or a 10-15 gallon container. Keeping them in full sun, or part shade with moist soil will keep them growing year round.  They can handle the cold as well as Kale.  If where you live gets a long period of freeze, it's best to protect the tree from frost.  
It's common for Tree Collards to experience transplant or climate shock when they first arrive at their new home.  Leaves may drop, but as long as the core stem is plump and purple, new leaves will emerge once the Tree Collard begins to establish.  When you receive your Tree Collard, transplant it to a bigger pot (if you are growing it in a container) then harden off the "tree" before putting it out in full sun.  This usually would help with avoiding fast leaf drop.

♥What You Will Receive♥
1 Fully rooted Ruffle Purple Tree Collard.  Will be shipped with soil in pot.  "Tree" is about 3-5 inches tall.  Care sheet will be included.

♥ Top Choices of Plants To Grow Forever ♥

♥Our Growing Practice♥
We believe that growing high quality foods require high quality soil; therefore, the ingredients we use for growing are of higher standards compared to the conventional systems. All our plants are grown in full organic soil, GMO FREE, and are not treated with any chemicals or pesticide.