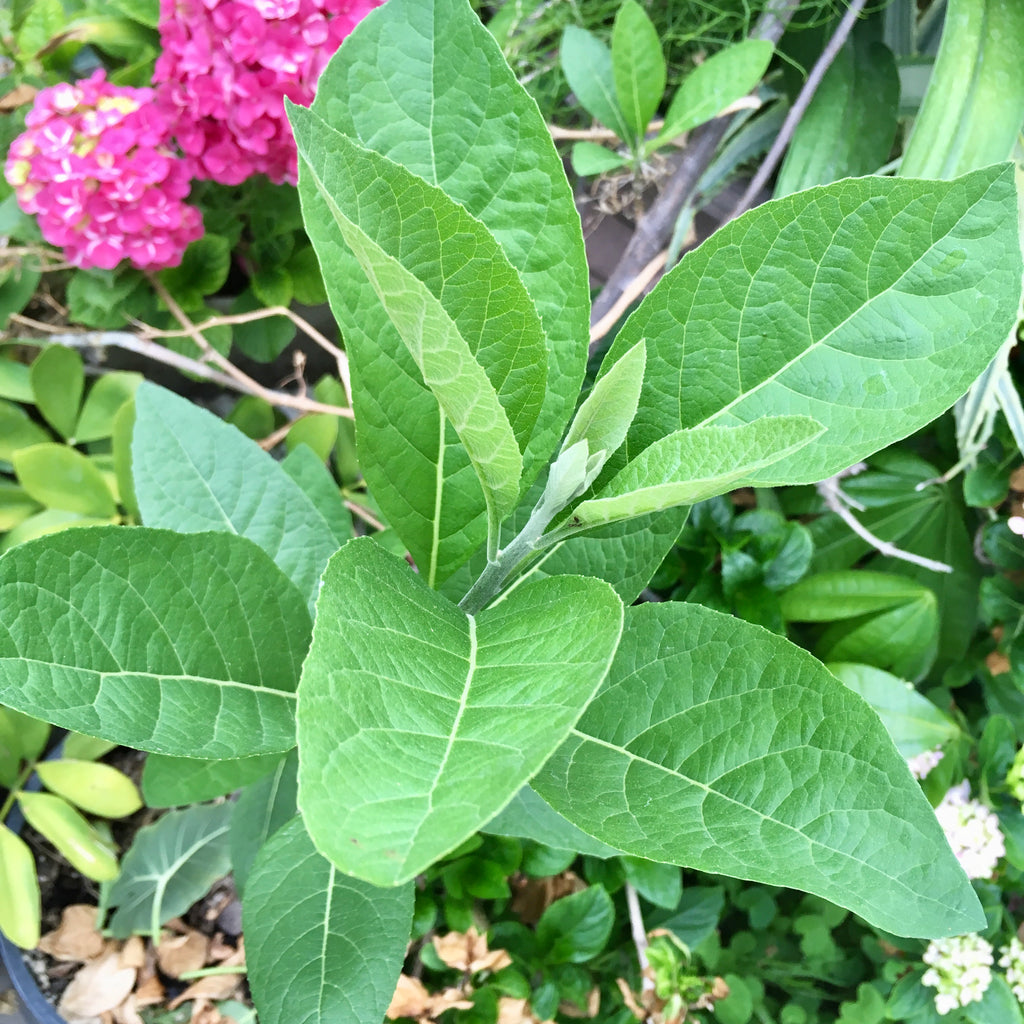 Bitter Leaf Herb
$23.00
♥*♡∞:。.。Will be coming soon!。.。:∞♡*♥
These plants are almost ready to greet you.  Be sure to add your email so you can be notified when they are back in stock! :)
Product Description:
Bitter Leaf ( Vernonia amygdalina ) is a medicinal herb native to tropical regions of Africa.  The locals consume the leaves as vegetable.  The leaves are used in soups, cooking, for tea, and applied topically on minor skin irritations.  Locals use the juice of the Bitter Leaf to relieve fever, increase metabolism for weight loss, enhance breast milk production, stomach ailment, constipation, support and detoxify the liver, and support healthy blood sugar.  This herb contains vitamin A, C, E, B1 and B2, as well as phyochemicals.   

Like its name, Bitter Leaf has a bitter taste, and the after taste is similar to the after taste of having artichoke heart.  I like taking a few leaves to juice along with carrots, apples, lime or lemon, and other leafy greens.  When Bitter Leaf is mixed with other vegetables the flavor is not as strong.
♥How To Grow♥
Bitter Leaf does well in full sun or part shade, moist soil, rich organic compost, grows well in warm climate, but grows faster when there's humidity.  Places with mild winter, It can be kept outdoor by a wall or under a tree for protection in the cold.  For places that freezes, Bitter Leaf can be grown in containers and brought inside.        
Can grow up to 20 FT, but can be kept small like any potted plants.
Propagates by cuttings.
♥Names Bitter Leaf Goes By♥
Onugbu, Shiwaka, Ewuro, Hausas, Yorubas
♥Size of Plant♥
Plant Height (vary): about 3 inch
Plant you will receive will be similar to the one in the last photo
Will be shipped in a coconut coir pot and soil so it can get to you as safe as possible.  You can place the entire pot directly in soil to prevent transplant shock.  The roots will grow through the coconut coir and into new soil.
A care sheet will be included.
♥Our Growing Practice♥
We believe that growing high quality foods require high quality soil; therefore, the ingredients we use for growing are of higher standards compared to the conventional systems. All our plants are grown in full organic soil, GMO FREE, and are not treated with any chemicals or pesticide. 
***Disclaimer*** 
Description is for educational purposes only.
This information has not been evaluated by the Food and Drug Administration.
This information is not intended to diagnose, treat, cure, or prevent any disease.

-------

Shipping Info
To my friends in HAWAII -- Since shipping live plants to the State of Hawaii are required to be shipped bare root, or in soil-less medium, I cannot ship this plant since I cannot guarantee the life of it upon arrival.  Ashitaba has sensitive roots.  If you have any questions, please contact me.  Mahalo!
If you are purchasing more than 1 item please contact me for combined shipping rates. Thanks!