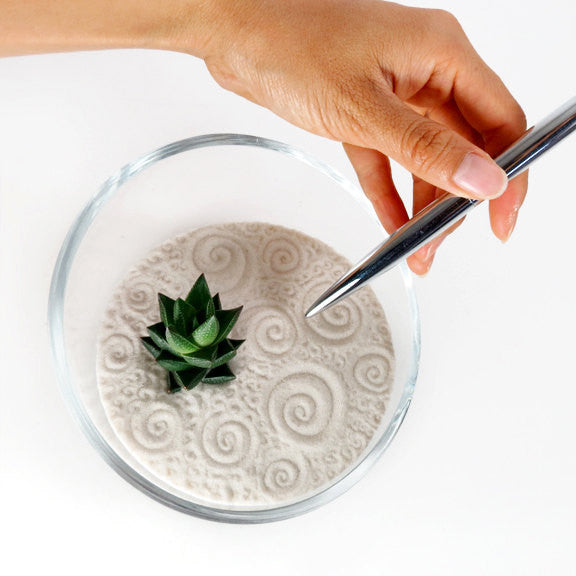 Mini Succulent Zen Garden -- DISCOUNTED!
$26.00 $30.00
***Please note that this is discounted item due to a few flaws/scratches that are on the glass.  In order for them to be visible in photos, lights were setup at specific angles to catch them in photos.  Please refer to last photo for samples of these glassware.
This is my modern take on the traditional Japanese Zen Garden. It is so much fun to have an interactive decoration in our work space. It helps to freshen your mind when playing with it. With just a pen or any objects with a pointy tip you can use to draw in the sand. 
Here, the cactus is your obstacle and the sand your peace. When you draw in this very fine sand, you will immediately get lost in Zen. You can even personalize your Zen Garden by choosing the color sand you want!

******Your Zen Garden will come with the succulent, soil, soft fine white sand, wooden drawing wand, and glass bowl.

You can check out my videos for more tips on how to care and play in your Zen Garden:
http://youtu.be/88I3fFmB9xQ
http://youtu.be/YHbAAUSDJDE

-------

Dimensions of the Zen Garden
Diameter: 5.25in
Height: 4in

Shipping Info
If you are purchasing more than 1 item please contact me for combined shipping rates. Thanks!

Elsewhere
For my oversea friends please contact me for shipping rates. Thanks!