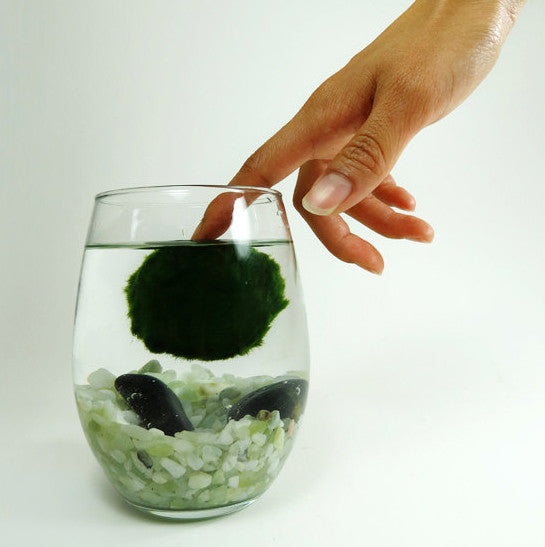 Marimo in the Oval Home
$25.00
This is the perfect Marimo decoration for any small space. It's nice for them to remind us that it's time for a break from work!
♡Dimensions of the vase♡
Height: 5 in
Width: 3.5 in
Marimo size approx: 1.25"-1.5" diameter

What you will receive:
- A complete set: 1 Marimo, decorative rocks of your choice, and the glass vase.
- A care sheet. If this is a gift, let me know after placing your order so I can also include a Marimo story for you.

♡Shipping Info♡
US buyers
If you are purchasing more than 1 item please contact me for combined shipping rates. Thanks!

♡Elsewhere♡
For my oversea friends please contact me for shipping rates. Thanks!

~~~***~~~***~~~***~~~***~~~***~~~***~~~***~~~***~~~***~~~***~~~

♥Planning on Gifting?♥
Marimos can stay out of water and in the dark for up to 3 weeks safely as long as it is kept in a cool place, indoor without indirect sunlight. Although I ship all my items with care, but if you can, placing your orders in advance would allow enough time for buffer. OR you can also leave me a note in the checkout indicating when you would like your package shipped. If not noted, regular shipments take within 2-3 business days to process. You will get your tracking info once they are shipped.

If you would like a note to go along with your gift, just let me know your message in the "note" section of checkout. :)

~~~***~~~***~~~***~~~***~~~***~~~***~~~***~~~***~~~***~~~***~~~

*********** I GUARANTEE your precious Marimos will arrive safe and sound with my special way of packaging for the cold winter months. :) *************

~~~***~~~***~~~***~~~***~~~***~~~***~~~***~~~***~~~***~~~***~~~

♥Questions?♥
Please write to me!

You can also visit my youtube channel to learn more about Marimos!
youtube.com/wendiland
http://youtu.be/tk4KgGBzwlE
http://youtu.be/pIdWEaXfHWE
http://youtu.be/uaaBtJZjieo