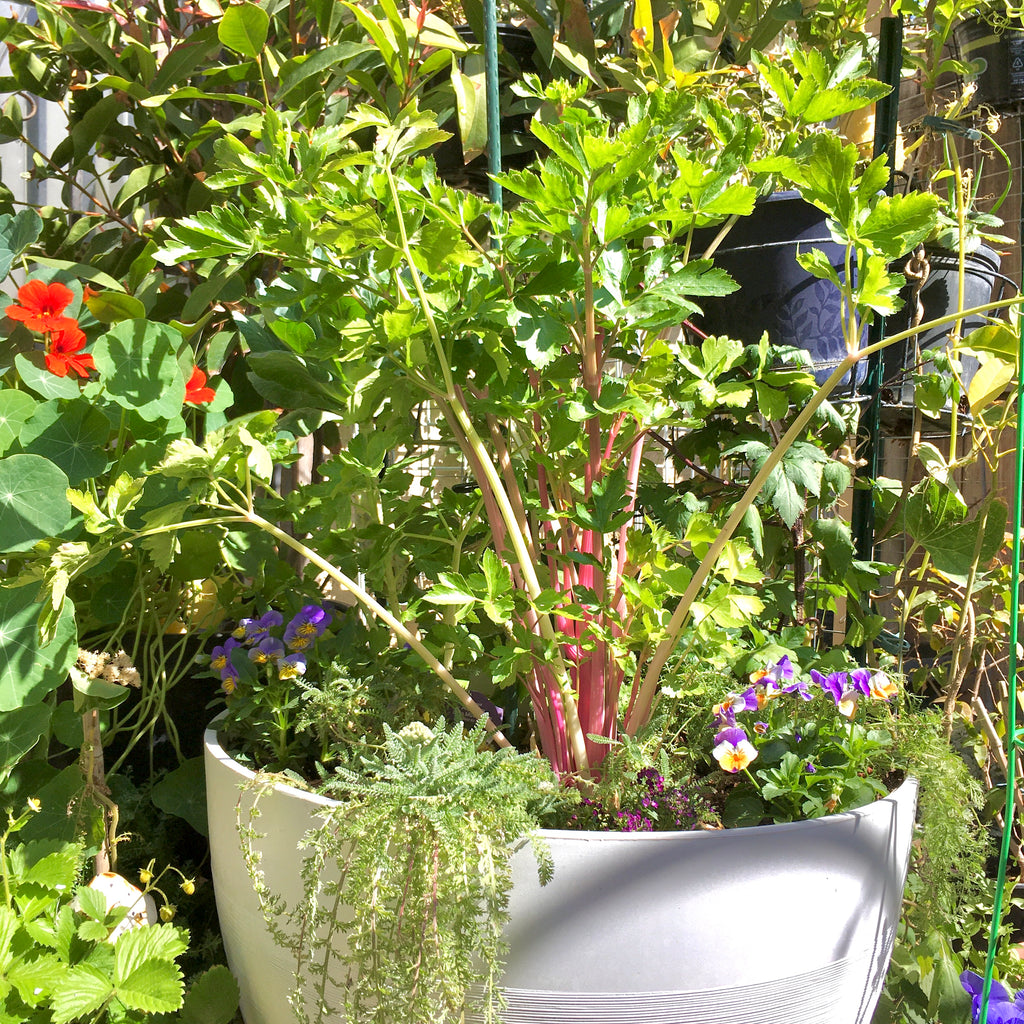 Pink Celery Seeds
$4.00
Celery juice has been part of the health trend due to its hydrating effect as well as its anti-inflammatory, vitamins and minerals properties.  Pink celery is not only beautiful, but the pink pigment in this celery I believe contains anthocyanin which has shown in studies that it can help with cancer preventions.  Like any celery, this is a biannual herb, but has stronger flavor than the celery available at grocery stores.

Places with mild winter, sow seeds in mid/late summer for a fall, winter and spring garden.  Celery will grow throughout the cooler seasons until the heat of late spring/early summer sets in.  Grow in part shade/full sun.  Celery may bolt faster growing in full sun in warmer climate.  Keep soil moist, and feed organic nutrients/fertilizers to this heavy feeder crop.
In colder climates, start seeds indoor 10-12 weeks before last day of frost so they can be ready to transplant outside after the last day of frost. Grow in part shade/full sun.  Keep soil moist.
Once you grow celery, you will never go without them as 1 plant will produce lots of seeds, and most times many will self germinate in the garden year after year. 
♥Need more convincing?♥
Celery is a great herb/vegetable to juice as a cleanse.  Delicious in salads, sandwiches, soups and stir fry.  Celery is a must have in the garden due to its diverse culinary use.
-------
♥What You Will Receive♥
30 Pink Celery Seeds from my garden
-------
♥Our Growing Practice♥
We believe that growing high quality foods require high quality soil; therefore, the ingredients we use for growing are of higher standards compared to the conventional systems. All our plants are grown in full organic soil, GMO FREE, and are not treated with any chemicals or pesticide. 
***Disclaimer***
Description is for educational purposes only.
This information has not been evaluated by the Food and Drug Administration.
This information is not intended to diagnose, treat, cure, or prevent any disease.

-------
Shipping Info
To my friends in HAWAII -- Due to agricultural restrictions in the State of Hawaii, I can only ship seeds not plants. If you have any questions please contact me.  Mahalo!
If you are purchasing more than 1 item please contact me for combined shipping rates. Thanks!