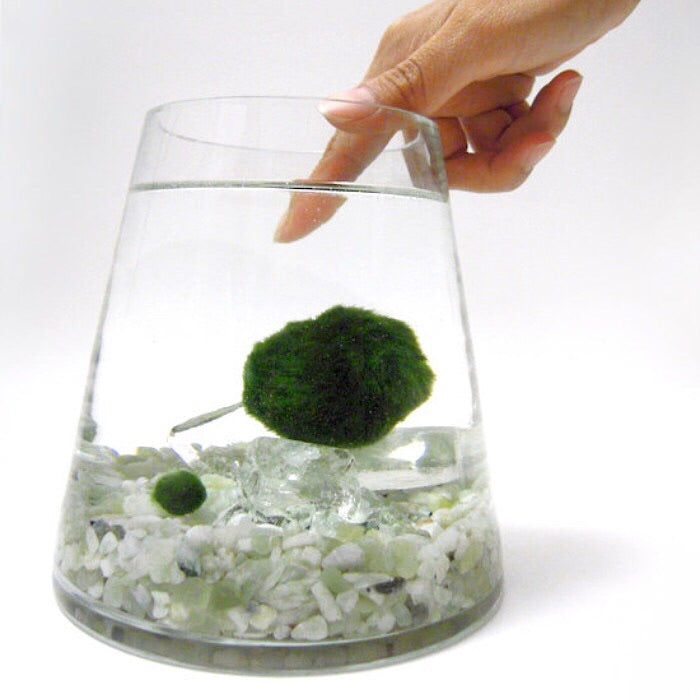 Parent and Child Marimos in the Jade Lake
$32.00
This Marimo aquarium displays a serene escape using natural jade rocks, and crushed glass mimicking a glistening winter's day at the lake. Aquarium comes with a large Marimo and a baby Marimo with all rocks showned in the photos, and hand blown tapered glass vase.
♥What is a Marimo?♥
Marimo is a fluffy living green ball that symbolizes love and everlasting relationship. They can grow so slowly for a very long period. The largest Marimo found in the wild is the size of a softball, estimated to be about 200 years old! They are the national treasure of Japan, and they believe that Marimos will bring you good luck if you take care and bond with them.
Dimensions of the aquarium
Height: 6 in
Circumference of the base: 18.25 in
Marimo size approx: 1.25"-1.5" diameter
What you will receive:
- A complete set: 1 large Marimo, 1 baby Marimo, decorative rocks and the glass vase.
- A care sheet. If this is a gift, let me know after placing your order so I can also include a Marimo story for you.

♡Shipping Info♡
US buyers
If you are purchasing more than 1 item please contact me for combined shipping rates. Thanks!

♡Elsewhere♡
For my oversea friends please contact me for shipping rates. Thanks!

~~~***~~~***~~~***~~~***~~~***~~~***~~~***~~~***~~~***~~~***~~~

♥Planning on Gifting?♥
Marimos can stay out of water and in the dark for up to 3 weeks safely as long as it is kept in a cool place, indoor without indirect sunlight. Although I ship all my items with care, but if you can, placing your orders in advance would allow enough time for buffer. OR you can also leave me a note in the checkout indicating when you would like your package shipped. If not noted, regular shipments take within 2-3 business days to process. You will get your tracking info once they are shipped.

If you would like a note to go along with your gift, just let me know your message in the "note" section of checkout. :)

~~~***~~~***~~~***~~~***~~~***~~~***~~~***~~~***~~~***~~~***~~~

*********** I GUARANTEE your precious Marimos will arrive safe and sound with my special way of packaging for the cold winter months. :) *************

~~~***~~~***~~~***~~~***~~~***~~~***~~~***~~~***~~~***~~~***~~~

♥Questions?♥
Please write to me!

You can also visit my youtube channel to learn more about Marimos!
youtube.com/wendiland
http://youtu.be/tk4KgGBzwlE
http://youtu.be/pIdWEaXfHWE
http://youtu.be/uaaBtJZjieo